If you have a gas mask and like aromas (poppers) you have found the best, most controllable, and safest way of enjoying aromas with your favourite gas mask. Much better than anything advertised as a 'poppers mask', a pump hose, with your favourite gas mask, is in a completely different league.
The Aromas Pump Hose is the only active device available. It will give you true, on-demand aromas; the amount you want, when you want – no fumbling around. No juggling bottles, bottle tops, tissues or cotton wool and filters.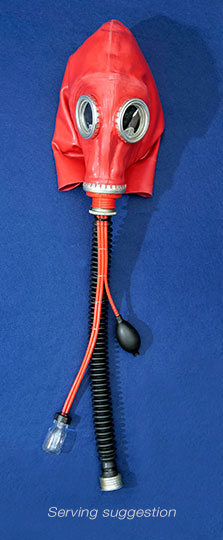 Made for any gas mask with a standard 40mm connector, the genuine vintage hose has been thoroughly cleaned and adapted to include the aromas pump system. Fit one to your favourite gas mask, add some aromas to the bottle and screw the bottle on to the hose. Each squeeze of the bulb sends aromas and air through the hose into your gas mask – you only get aromas when you pump. A few quick pumps – then leave it for a while.
There are many other ways of using poppers with a gas mask; just holding the bottle under a hose, putting some wet cotton wool into a filter, adding rebreather bags . . . The problem is you always have to keep opening and closing bottles. With cotton wool and a filter, it's always too strong at first, then the effect fades away without anything left in reserve to follow.
I tried lots of different ways to enjoy aromas with a variety of gas masks – I was determined to find a reliable and controllable way.
I tried various arrangements of gas mask hose with tubing and other bits and pieces from aquatics shops. I modified bottle tops by adding tubes, I tried dropper bottles, I used a battery powered aquarium pump, and even a foot pump. I finally developed the first version of the current design, back in 2014.